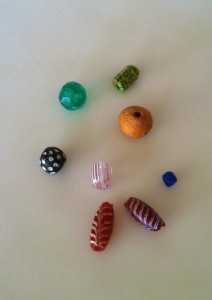 Hand-made. Hand-painted. Historic. Traded. Hand-strung. There is a romance to beads that was celebrated in Tucson this month. Bead enthusiasts  including dealers, buyers, artists and historians joined in a celebration of gems and minerals and other assorted wonders including beads.
As part of the Tucson showcases I met one bead enthusiast/historian, Steve Ellis, who opened my eyes and heart to how beads are elements of cultural tradition, ornamentation, religion, art, commerce and mystery. He told stories of how beads speak to our individuality, and he showed me beads centuries old which have been used as currency, protective talismans and family tradition.
I purchased eight small beads which told stories to me, and I relate them here, paraphrasing Steve's words:
Clockwise (sorta!):
Millefiorie – an 1800s Venetian bead, meaning 1000 flowers in Italian – popular across the world for trading except in our Americas. It was modeled after the famous mosaic beads of the Islamic period;
King Bead – symbolic of status, mostly traded in Africa, bicone in shape and often yellow, representing maturity and prosperity;
Russian Blue – a Bohemian bead, hand-faceted. Russian fur traders brought them in from Alaska (very large Russian blues) and as they were traded further and further south, the beads grew smaller and smaller. This tiny Russian Blue probably was traded in the Southwest;
Feather Beads – two of them because I love them! Mid-1800s, Venetian, hand "trailed" – traded and beloved by Native Americans;
Black Skunk – Popular with Blackfeet and also known as eye beads. Protection and also beloved by Native Americans;
Green Vaseline – Bohemian and Czech glass bead, possibly early 1900s;
and in the center:
Gooseberry – hand-made Venetian glass bead, later 1800s, also beloved by Native Americans.
What are the messages that the beads tell us? What memories or gifts do your beads bring to you? May beads continue to transcend time, and may beads with all their uses continue to relate important stories about culture, the economy and art.