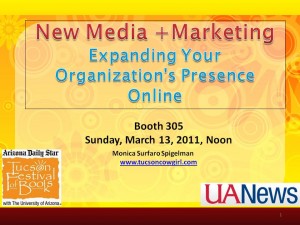 Conversations about books and the digital universe go hand-in-hand at the country's fourth largest book festival.  Nooks, Kindles, iPads and mobile devices are everywhere in the tapestry of authors tents and books. Is there any doubt that communication, reading and media have forever changed through social networking's influence?
I'm speaking at the Tucson festival about how organizations or businesses can build their own online influence: I go live on Sunday, noon, at the Festival's UA News booth #305 on the Mall. It will be great to see you but if you're immersed in author talks or book signings, here are some Social Media resources to snack on:
http://pewinternet.org/: Pew Charitable Trust is my go-to source for all research on Internet, Social Media, Engagement, Age Groups;
www.briansolis.com: My Social Media superstar is Brian Solis, Mover & Shaker in our digital industry;
http://mashable.com/ I get a daily dose of this online resource and its links are invaluable.
Niche is the New SM Trend
While mass social platforms, like Twitter, Facebook and LinkedIn will continue to be important, the niche, industry-specific networks will be of greater value in the future. Social media is not a one-size-fits-all solution:
If you want a copy of my presentation or additional resources provided please contact Tucson Cowgirl.