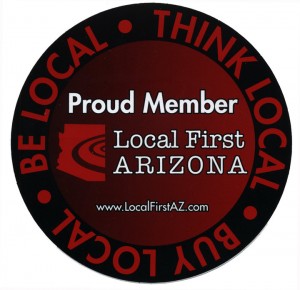 We choose local foods and businesses as part of a more sustainable lifestyle. In this all-American week of pilgrims and thanks I am pleased that the go-local movement is growing.
Going local is about business, food and a way of life. I'm part of our Local First Tucson group of businesses focused on enriching communities throughout Arizona. Strong local economies will turn the tide in these volatile times.
Foodies have embraced the locavore aspect of go-local. Award-winning author Barbara Kingsolver helped put it on the map when she practiced it and wrote about it in her 2007 best seller. In October 2008, NY Times Magazine contributing writer Michael Pollan, in his provocative piece on importance of regional food economies and small farmers, called upon our next president to be Farmer-In-Chief.
For me, focusing local began in 1972, when place-making and the back-to-the land movement was in full swing. I was a young journalist attending a conference titled "How to Live Sanely in a Trouble World. Helen and Scott Nearing, Vermont and Maine homesteaders and authors of the 1954 cult classic, The Simple Life, were there, as were many other leaders of the early green revolution.  Since then sustainability and community-building (incorporating nature, art and culture) grew roots in my professional and personal life. Amazing- Just recently, the People's Garden NYC contacted me about a story I wrote for the New York Times on Urban Agriculture 30 years ago. Sustainability is timeless.
I'm lucky to know several locavore leaders  in my desert backyard. One is Janos Wilder, whose restaurants are a mecca for exploration of regional cuisine and Sonoran ingredients, which he sources locally for his Downtown Kitchen. Janos continues to inspire food enthusiasts of all ages with his farm-to-table culinary events. Janos also creates feasts in honor of Sonoran Region farms, vineyards and breweries and inspires all with his farm to table celebration of community sustainability. I also like lifetime farmers here in the Tucson area including Jim McMannus of Walking J Farm, part of the Double Check Ranch family, and Yong Rueb, who began her farm with her husband, John,  Forever Yong Farm in Amado, Arizona, about 10 years ago.
To get involved in your locavore table and business:
1.    Look local. Get to know your community's agriculture, your native foods, your local business. The best place to start is a national compendium in Local Harvest and for business something like our Local First organization.
2.    Taste local. Find out if your local farms participate in Community Supported Agriculture by checking your ZIP code in the Local Harvest CSA Directory.
3.    Support local. There are many regional organizations focused on strengthening the local economy and supporting local farms. The Local Harvest and the SBA are good first-stop resources for you.
4.    Learn local. Check out this resource page for the Small Business Saturday movement.
5.    Enjoy local. The most important of these 5 tips! Find cultural associations that celebrate native food traditions and participate in their events. Frequent restaurants that support local farms. Buy gifts from local vendors and small businesses. Challenge businesses and restaurants to stock and serve more locally-produced items. Challenge yourself to intentionally buy and support local.
The best and most sustainable adventures are often the ones closest to you. I'm thankful for them in this holiday season.