Are you ready to pause, listen and look around as you scurry through 2012?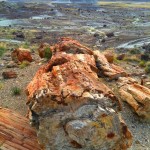 For me, trekking through Arizona has been a way to help me slow down, enrich and clarify my personal as well as professional life. Whether looking out the window of an historic railway, visiting a sustainable farm in Patagonia, or climbing to an arch along Navajo highway — the world around me has been invaluable resource to  refresh the soul as well as help hone the writer craft. I just needed to stop, listen and look. Five examples of journeys that have encouraged my creative spirit:
A visit to the imposing mountain Baboquivari… where a rambling dirt road taken past the lovely Himdag Ki museum leads to what the O'odham people call the stony ground. I didn't climb to the top of this mystical spire but I hope to in 2012. The quietness, interrupted only by birds and rustling lizards, is magic for the soul.
Colossal Cave: In once great ranch land where cattle still roam, there is a beautiful outpost that hides a treasure of a cave. In monsoon season the tourists are scarce, and lazy horses or burros slap tails against the flies. The wind rustle through dried grasses. It's all like a summer desert song that reawakens creativity.
Coronado Trail Highway 191: We zig zagged the car past the mines and funky towns of Clifton and Morenci, and drove up through the glorious Coronado Trail just a week before the horrific fires in 2011. We were surrounded by green blankets of forest and moss, saw packs of bighorn sheep and couples of elk. The quiet majesty of this area was breathtaking. Still is, its power to nurture the spirit undiminished by the late spring firestorm.
Navajo and Hopi Land: Past Flagstaff off Highway 89, following route 160, there are offshoot roads that take you to the land of Dine and Hopi. Here you find wide open spaces cut by redstone arches,  expansive colorful canyons, monuments, petryglyphs and strangely-formed monoliths that spiral to the sky.  It is a universe of nature, beauty, history and stillness like no other in Arizona.
Salt River to Petrified Forest: Above Globe, Highway 60 takes you through high desert and a scenic bridge that leads through a canyon full of Apache history. Passing this, then through White Mountain vacationer towns like Show Low and Snowflake, you find more unique Arizona beauty along the Colorado Plateau in a forest of a different kind. The wind rips in the Petrified Forest, where temps get to zero in wintertime. But it is a strange land of fossils, petrified woods and strange formations, carried here and molded millions of years ago.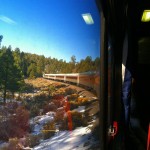 Each trip brings amazement at natural wonders, new respect for ancient ways….and a cleansing of the spirit as technology slipps away and the here-and-now speaks loudly.
In 2012, take the time to break away. Speak to yourself, not your Facebook page. Did you enjoy this moment? See — It is gone already!
Resources for writers:
From CopyBlogger: 10 Terrific Writing Blogs
From New York Times: The Joy of Quiet
Useful for Entrepreneurs: Blogs and Twitter Accounts For Entrepreneurs to Follow