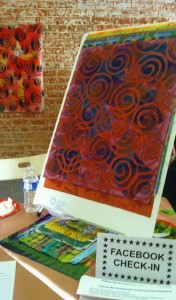 I'm meeting with a group of local artists who are part of an entrepreurial network called Arts Marketplace. The goal is to talk Social Media, and I'm sure people are looking for the tools and formulas that give insights into this huge, complex online world. Yet I hope I can convince artists that it's not about converting the social media masses into instant shoppers of art. Rather, it's about finding the people and the conversations that compel them and lead them to potential partnerships of all sorts.
The Social Media world provides artists with the outlets and audiences:
To generate  creative ideas
To build identity of your artistic pursuit
To sustain your creative business momentum
To build relationships with like-minded advocates,  fellow artists and potential partners
To cultivate new opportunities
For example, you can look every day on Mashable and find unique and creative ideas to explore and refresh your creativity. Here's one group of tools that help artists work with colors: http://mashable.com/2010/06/10/color-tools-web-design/ t
So many organizations provide suggestions on how artists can build identity. Here's one providing info on writing that all-important Artist Statement:
http://handmademarketing.org/how-to-write-an-artists-statement-handmade-etsy/
The artist dream is in part about business, and I've found good info about business strategy on this site: http://www.artprintissues.com/2010/08/does-social-media-work-for-visual-artists.html
To help artists build relationships – with customers, partners, friends, fellow artists — here is a good network: http://www.myartspace.com/
And to cultivate opportunities, including looking for grants and projects, there is a universe of good resources in the social media platforms. Here's one: http://www.artworkinternational.com/grant.html
This is a start for the exploration. I'll be adding more resources!