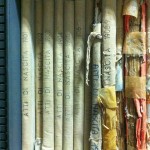 Reading opens so many doors, yes? Letters tell family stories; books reflect cultural experiences that hit home. These days I search for writings that open doors into my Italian heritage and mysterious family roots. My childhood, although rich with gatherings and foods reflective of my Italian origins, lacked a foundation in Italian language and specific family lineage documentation. Why? Like so many immigrants of the early 1900s, my grandparents saw America as new opportunity (in my case, as starting anew after devastating Reggio Calabria earthquakes.) They thought it best for future generations to face forward. How ironic I now dream about a return to that character, culture and knowledge these gentle, wonderful people left behind.
I recently visited the birthplace of my grandparents, in the Calabria region of Italy, and will have stories to tell about my family and the silk-throwing traditional arts (sericulture) that is part of my family history, in posts to come.
For now — It's sad to read about the Tucson Mexican-American Studies mess, and most recently about the Tucson Unified School District's rejection of a reading by author Ana Castillo. These students want to read books that reflect their personal cultural story. It's what I would have wanted to help me experience and nurture my heritage roots.
I'm happy author Castillo will visit Tucson anyway, and give a free reading on Friday, May 4, at the John Valenzuela Youth Center 1550 South 6th Avenue, South Tucson, 6:30 PM. So many in the community have stood up to sponsor and promote this event. Cultural enrichment should be meaningful to the heart, not to the politics. If my grandparents had encouragement from the school system or local government to embrace heritage, perhaps I would be further along in understanding my roots. So, author Castillo, I look forward to your visit, to letting children know their roots, and to hearing how words can help heal the spirit.