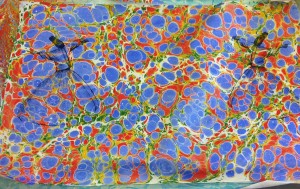 There are many stories written in Tucson, and one of my favorites focuses on the cultural traditions rooted here. In the nooks and crannies of Tucson's diverse communities are artisans who share (through festival, cultural entrepreneurship or demonstration) their traditional art forms that are cultural expressions reflective of folk life, folk art.
I enjoy writing about tradition bearers who have the responsibility (and joy!) of keeping their culture alive. Their work mixes function with beauty. Many arts brought creative expression to everyday tools (as in my grandmother's case, when her kitchen towels became decorated with intricate lace work).
Saturday I visited the "Kermes" or Turkish Bazaar at the FID Center and saw old friends from Tucson Meet Yourself tradition-bearer demonstrations. There old and new tradition bearers formed a creative display and community circle of function, art and tradition.
There was Mustafa and Mine, demonstrating the beautiful marbled art form of Ebru. And there was Cuneyt whose Turkish calligraphy technique mimics the scripts of Arabic via his use of broad nibbed pens. Both Mustafa and Caynet create special art on delicate paper — and I purchased a small piece of their work. Traditional "hat" calligraphy with Ebru style art.
I love the cultural messages of these bazaars and festivals, so much a part of the Tucson fabric. At these festivals I usually run into Loma and Jim Griffth, the king of Sonoran folklore and founders of Tucson Meet Yourself. Of course they were there, drinking Turkish tea and sharing stories with many generations of the Turkish community. All like family, as it is in the folk arts area of Tucson Meet Yourself.
The interweaving of good food, fun, community place-making and indigenous traditions brings joy to my heart. See you October 12 -14, 2012 for more community folk arts and Tucson Meet Yourself.