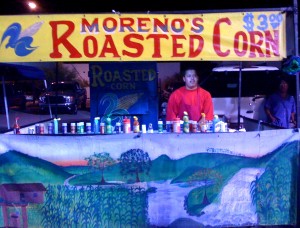 Tradition – it is the intersection of all things wonderful in a community. Back in Brooklyn, I recall this month signaled the start of community bazaars, outdoor musical dances, and cookouts of grilled sausages and fried zeppole, those delicious ricotta doughnuts that I still taste in my dreams.
Rituals like these have enriched my quality of life. They've helped me preserve heritage, foster pride, establish legacy and stay engaged in community. Years later – with my family scattered across several states and immersed in life's whirlwind – Festival continues to be important in my community place-making.
Here in the Southwest I've discovered unique aspects of festival as they apply to our Native American, Mexican and Sonora region cultures. Traditions of family, food, health and spirit have demonstrated to us how across cultures a community sense of place is enhanced through ritual.
Tucson Meet Yourself Folklife Festival is the mother of all these local festivals. Traditional storytelling, arts and crafts, costumes and recipes are a way to share folk culture, bind together neighborhoods and give individuals a sense of community, and there's plenty of all this in Tucson Meet Yourself.
The Festival is October 8-9-10. In this weekend of celebration I can eat a handmade tamale, watch a master artisan craft some leatherwork, listen to a Tohono O'dham story and enjoy a folk dance all in one afternoon. This is one memorable festival that communicates the sounds, arts, smells, visuals and experiences of community identity and cultural practice.
I have always placed high value on preserving group traditions and the way of life they represent for the following generations. Particularly in Arizona, where it has become critical for various cultures to live together and understand each other, tradition as a symbol remains important to successful, positive communities.
Resource: Dr. Jim Griffith, folklorist, with definitions of folklife and relevance of festival like Tucson Meet Yourself.