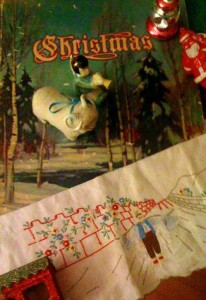 One of the best gifts of the season is the opportunity it gives us to celebrate family traditions and to forge new ones. This season is a banquet for the senses and I bless all the sounds, smells and sights it offers.
I make my way back to the city still home in my heart — New York City. Street-side carols, chestnuts roasting in carts, bells ringing from Church steeples, smiles all around. If I'm lucky there's a blanket of snow, a beautiful peace descending, and the strength it brings I wish for the world.
The ritual of tree trimming, Christmas Eve seven fishes, crackling fires, pulling out century-old ornaments from my grandparents and my Mom and Dad — It all grounds me. Am I imparting this sense of unexplainable magic to my son, so he will keep it in his heart? I hope so.
The holidays are a welcoming place I can return to in my heart, over and over. I wish the same for Leigh, Brett, my family, all of you, for our crazy world. May you find comfort in the rhythms of this special season, and may you pass the sense of peace all around you, on to others.