There's pride in that chrome. I've watched some of the action at various Tucson bodyshops, as lowrider enthusiasts lovingly attend to their cars. They layer coats of color and clear lacquer, craft the chroming, turn coil springs and install shocks to give their cars the low cruising look.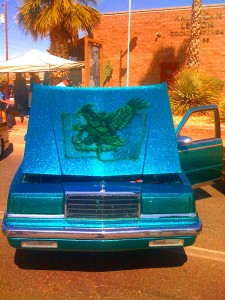 Lowrider cars are sport, art and culture all in one. They're a Tucson tradition, too. Lowriders are important to our city as they partake in a form of cultural democracy, breaking down barriers through art. They showcase our city's folk and ethnic community style. If you want to see more of this neighborhood art,  Tucson Meet Yourself (October 8 – 10, Downtown Tucson along Church) plans a special Lowrider car show to celebrate this Tucson tradition.
I raise my hankerchief and say olé! to another aspect of the borderland that enhances Sonoran Desert quality of life.
Tucson Lowrider Resource: Empire Customs