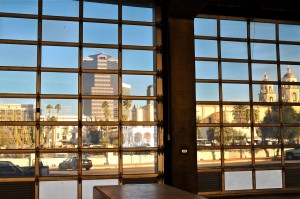 Tucson is unique and thus it deserves MOCA – an airy space of edgy-meets-global contemporary art installations and artist residencies. It opened in March in a converted firehouse on Church, in downtown Tucson. The building is perfect for Tucson's young contemporary art museum, with its huge bays and abundant light. Hip and high-brow, MOCA's new home grabs attention with its walls of windows and dazzling views of downtown.  There are 4 areas in the airy space:
A grand hall — 6,000 square feet of main exhibit space;
An East Wing — a creative maze of galleries and art rooms;
An Artists-in-Residence area; and
Administrative Offices and Design Wing.
"Contemporary art needs big spaces and this is the perfect environment to feed the cultural vitality of our city," says Anne Marie Russell, the museum's executive director. When the William Wilde-designed, 1970s building came on the market in 2008, MOCA was the only respondent to the RFP. MOCA was awarded a five-year lease and took the keys for the Neo-Brutalist-style glass and concrete building last year. The exhibits are in yet the building continues to evolve. Watch for more renovation and a public zocalo opening, hopefully within the year. Bravo, MOCA!
Resource: MOCA Tucson