Every day there is a new social media platform or tool. Your knee-jerk instinct is to employ every tool that emerges and to participate in every beta network. Resist!
Low-cost creative innovation certainly expands our opportunity to communicate and connect. But honestly before you start talking and using all the toys, it's more productive to first focus on key basics.
One key basic: Listening. You can't network if you don't understand the conversations! I listen broadly to a variety of conversations using Google Trends, Google Alerts, as well conversation overview platforms like Trend Buzz.
In general, do you know what to listen for? I ask these questions when I listen on social media:
What are people talking about that is relevant to me, my passions or my customer?
Where are "my" conversations boiling, particularly here in Tucson? Do I find my relevant conversations on Twitter, or are they on LinkedIn?
Blogging is not dead. What are the relevant blogs I follow?
Who are the discussion leaders?
Am I (or should I be) in the conversations? Are my competitors and partners there?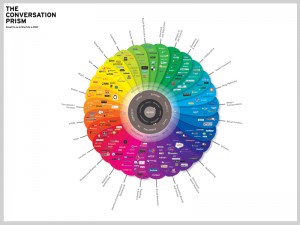 The matrix of how conversations are conducted in social media is by Brian Solis and called The Conversation Prism. It's regularly updated and is an interesting tool.
Someone who really understands the importance of listening in social media is the Chief Digital Officer for NYC, Rachel Stern. This presentation she gave (via a PSFK conference) was a very good overview of how NYC government listens and interacts on social platforms
OK, now that you're listening, the way you continue to engage and bring people to your conversations is through Search engine optimization.
I love these simple SEO guidelines by Global Voices Advocacy, created to help advocacy bloggers get their voices heard. You'll learn about keywords and other good stuff critical to your SEO. In this little guide there are wise words for everyone.
Note: You may have heard about "keyword phrase density."  Don't focus on it too much, but density should be 1% – 3% of your total text. See http://tools.seobook.com/general/keyword-density/ But don't overdo it because "keyword stuffing" or "search spam" can get you in trouble.
The conversations are out there. Be selective, but part of those that add value. They'll enrich you, fuel your passions and support what you do for your customers.  Thanks for listening!
Resources:
Brian Solis speaks on The Conversation Prism.